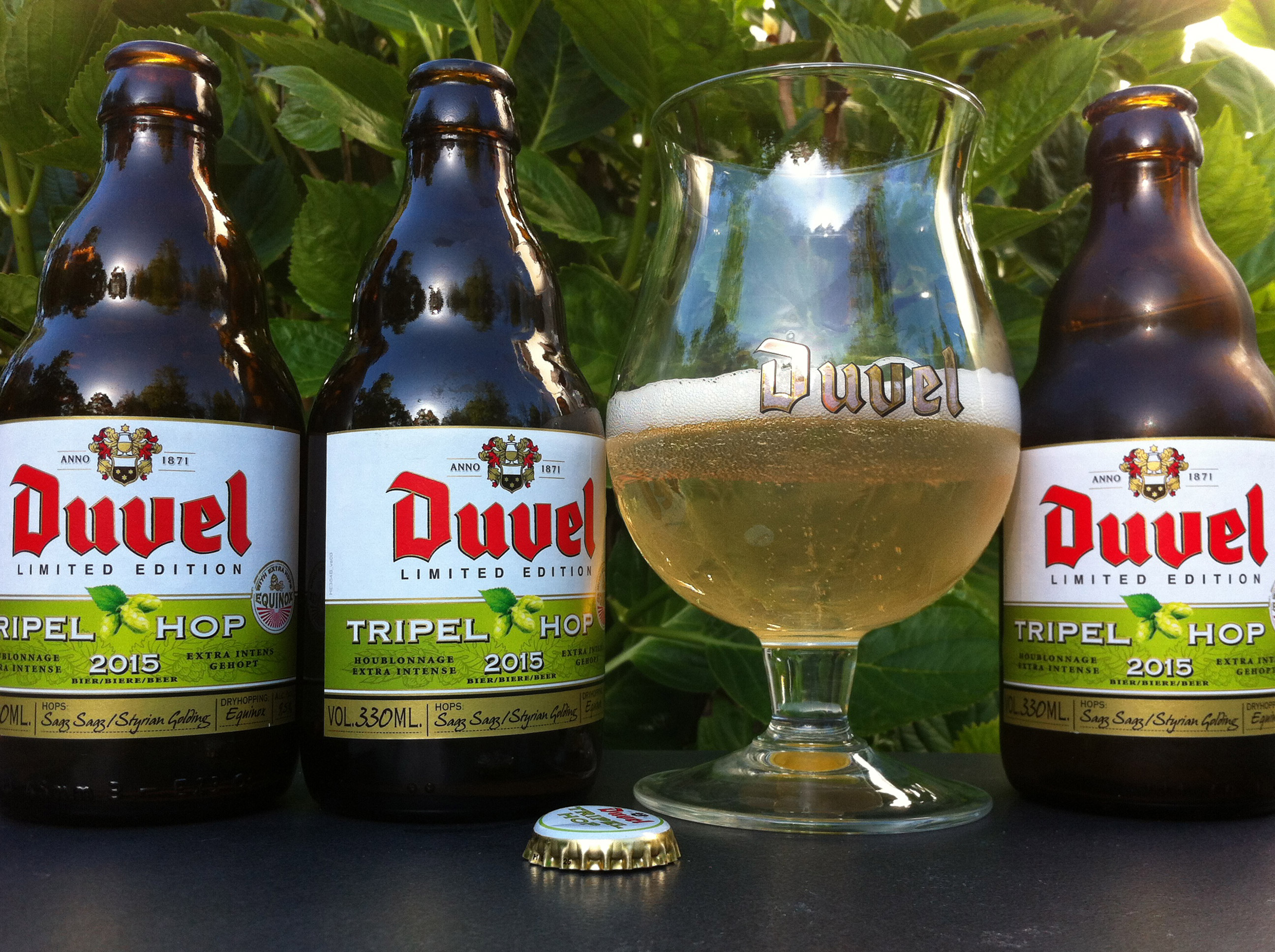 Split Personality, by Duvel Tripel Hop
Duvel doesn't need any introduction. In witness whereof, have a look at our post "Short Story of an Intense Beer." However, Duvel Tripel Hop may not be widely known. And let us say straightaway that that would be a pity.
It's a vintage beer. The 2014 production was rated 96 and 92, respectively, on ratebeer and beeradvocate. This year's production is at 93 and 88 — it's been taken down a notch. I personally find that last rating a bit strict. May we be allowed to suggest that these American websites (Fulton, California; Boston, Massachusetts) are becoming, little by little, just a tad protectionist? Like the Belgians — among whom this writer numbers — they tend to think more and more that their beers are the best…
This golden strong ale (9.5% ABV) contains two basic hops (Saaz and Styrian Golding). The 2014 version was dry-hopped with Mosaic, the 2015 with Equinox (brand-new hops developed by Hop Breeding Company), whose aroma focuses on a citrus and tropical (even exotic) profile.
The challenge is to produce a beer with the intrinsic Duvel characteristics every year, but in a new form. I do not know if other brands venture to engage in this exercise. In any case, it's easy to see why the approach is audacious for a brand so typified. Accordingly, this is a limited edition — which is not without adding to the brand's well-run marketing.
We can assert one thing: This is a very very very hoppy beer! Strongly carbonated, strongly flavoured, more fruity and less bitter than the 2014 version — maybe a little more alcoholic too. It's a Duvel, without being the same Duvel. And the common core between these Duvels is first and foremost the yeasty side, a sort of common signature, eminently Belgian.
Without any doubt, this is a great beer, born from a great process. With all due respect to beeradvocate.com, their average of 88/100 is a joke. This beer — and all that this approach to brewing involves — is very close to the top!