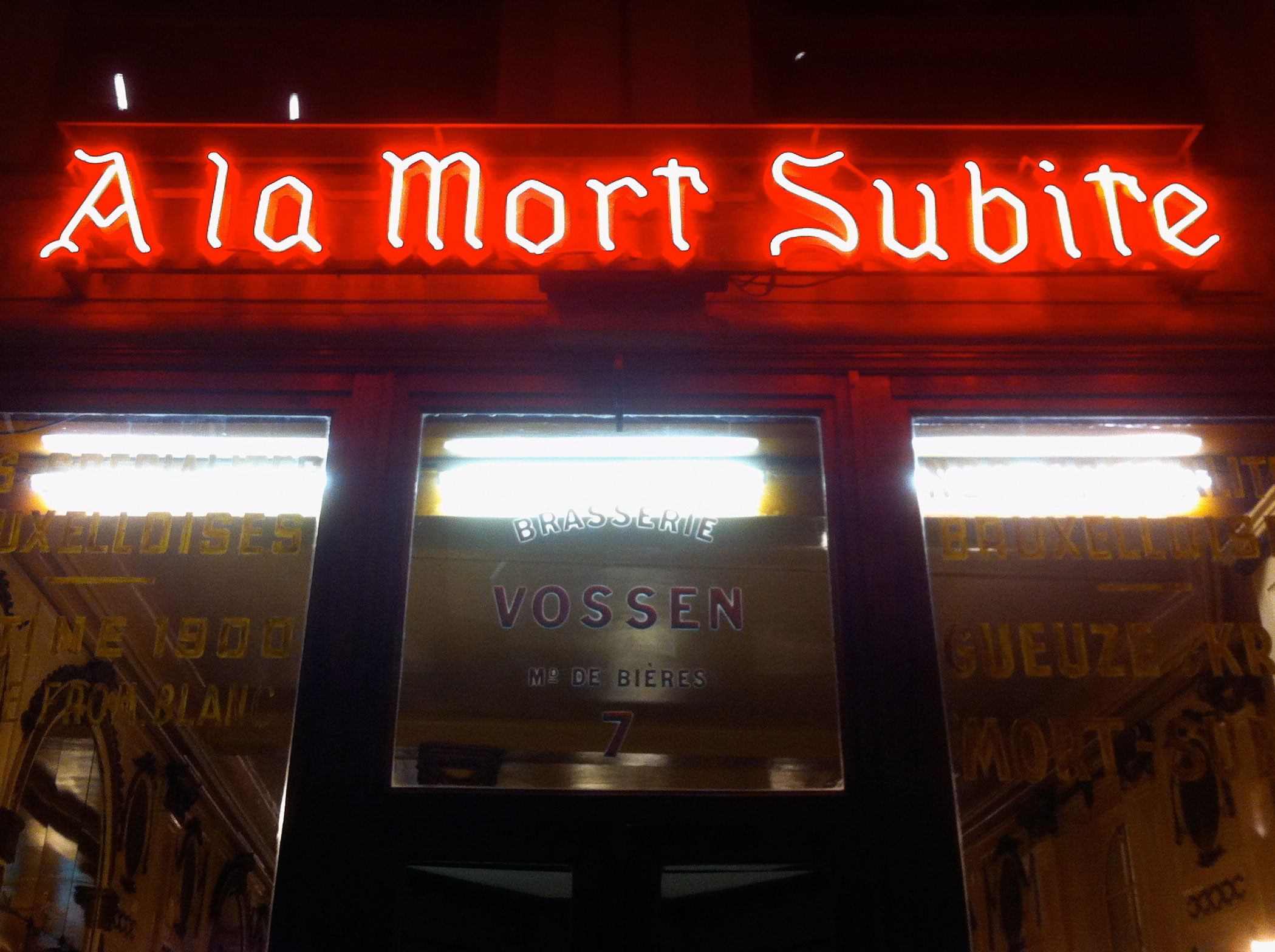 Welcome to the Sudden Death!
Just a step away from the Grand-Place or Grote Markt, in the central square of the old Brussels, there is an old bar in a side street, the rue Montagne-aux-Herbes-Potagères – which means Domestic Herbs Mountain Street. The bar was given a stranger and more disconcerting name: "A la Mort Subite" – "At the Sudden Death"…
This establishment has kept its décor unvaried to this day. The furniture and the atmosphere it had nearly a century ago have not changed. And it has always belonged to the same family – the Vossens – and still does today.
For the inhabitants of Brussels, this place is a temple of beer. An unchangeable institution. Here, there has never been a single piece of music. And this pleased – and still pleases – the regulars and those who wanted – and still want – to enjoy their beer away from the noise of the nearby downtown. Jacques Brel and choreographer Maurice Béjart liked coming here, to look, think and perhaps create among the burnished tables, the old mirrors and the ancient bright globes.
Why the name? Some say that a customer fell dead on the opening day – of happiness at winning the jackpot in the lottery. But the truth lies elsewhere. Originally, the Vossen family operated another bar where state employees and journalists came to play a very local game: "Pitchesbak." It's a game of dice where the losers have to buy a round of drinks. The loser became the so-called "death." Before the end, everybody replayed a single throw: "sudden death". The name had become so common in the café that the boss renamed it, and also gave the name to the new café he opened in 1928 and to the gueuze he brewed.