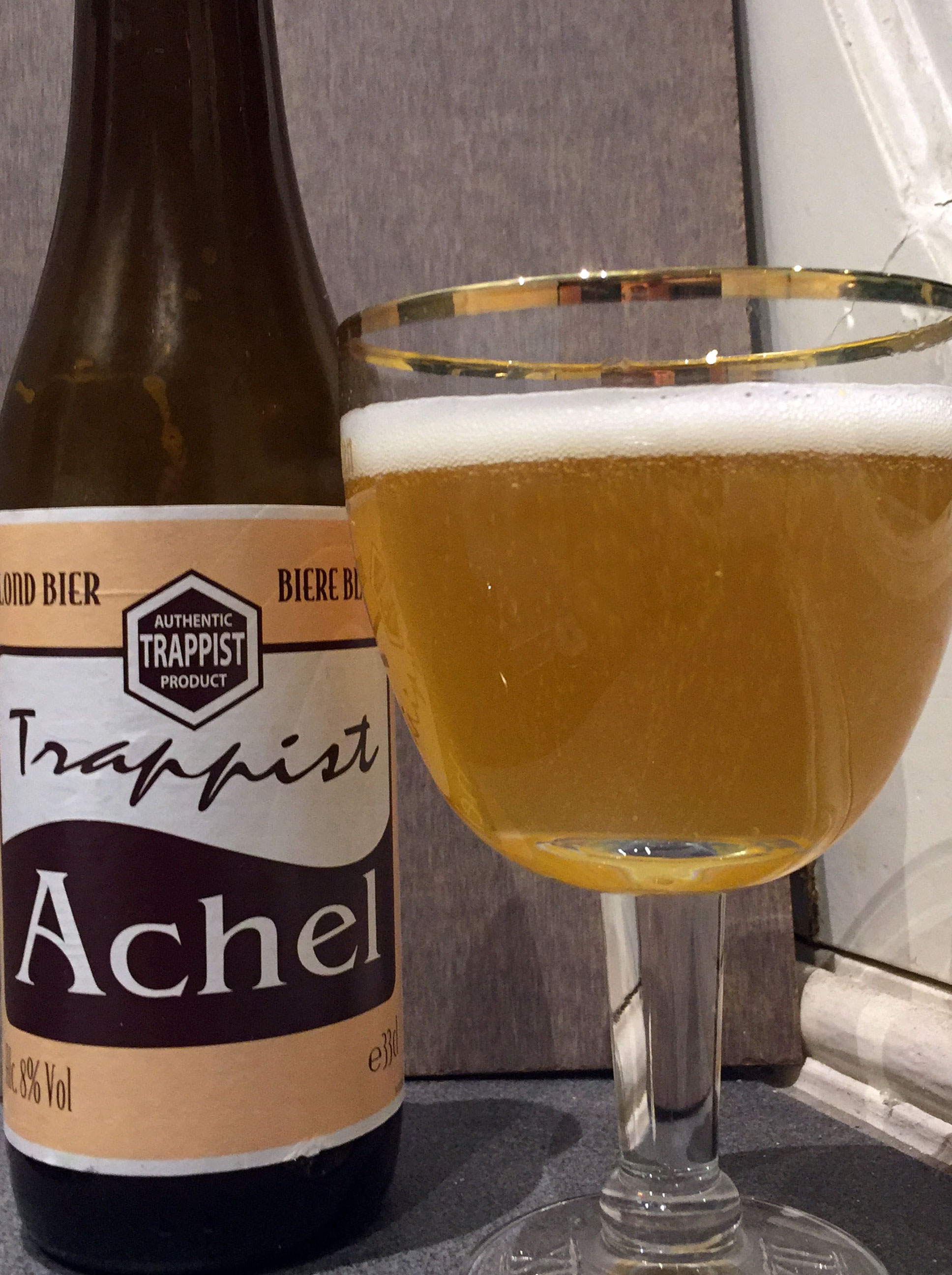 Achel 8: Delicious Spicy Triple
It should be kept in mind that a beer can be called "Trappist" only if it is brewed under the control of monks of the Cistercian Order of the Strict Observance, who are called Trappists. Fourteen monasteries produce Trappist beers, as recognized by the International Trappist Association (ITA). It's that association that grants a monastery the right to use the label "Authentic Trappist Product."
The fourteen are: La Trappe (Koningshoeven Abbey, Netherlands); Chimay (Scourmont Abbey, Belgium); Rochefort (Our Lady of Saint-Remy Abbey, Belgium); Westmalle (Our Lady of the Sacred Heart Abbey, Belgium); Westvleteren (Sint-Sixtus Abbey, Belgium); Zundert (Maria Toevlucht Abbey, Netherlands); Stift Engelszell (Stift Engelszell Abbey, Austria); Spencer (Saint Joseph's Abbey, United States); Cardeña (Monastery of St. Peter, Spain); Tynt Meadow (Mount St. Bernard Abbey, England); Mont des Cats (Mont des Cats Abbey, France); Orval (Orval Abbey, Belgium); Tre Fontane (Tre Fontane Abbey, Italy); Achel (Sint-Benedictus Abbey, Belgium).
The last in the list is our Trappist of the day — "8 Blond," to be precise (Achel is available as Brown and Blond, in two strengths: 8% and 9.5% ABV).
Better known than the latest arrivals — Cardeña or Tynt Meadow — it remains the least known of the Belgian ones, Achelse Kluis being a microbrewery with a fairly modest production (4,500 hL-3,800 US bbl).
I think that this Belgian Triple is exceptional in many ways. It's a beer with warming spice flavors which becomes more complex as you taste it. An elegant and subtle Triple, with a superb consistent body for the style, a lovely tangy finish, and a very yeasty aftertaste.
To unearth post-haste if you do not know it yet.