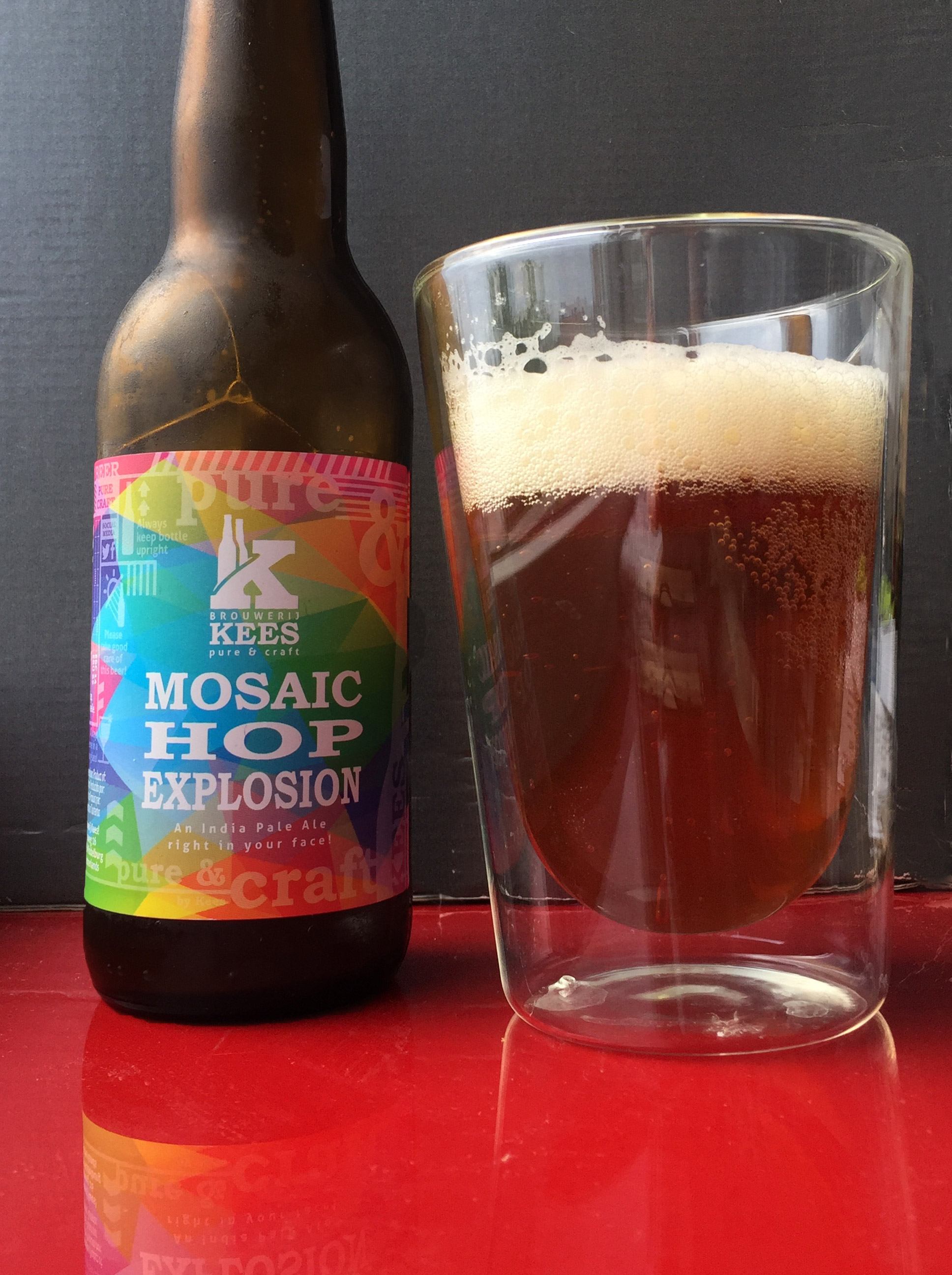 About the Validity of a Name
Targeting mainly and initially pale ale, IPA, and American wheat ale production, Mosaic — a US hop variety developed in 2012 — spread widely, up to and including use in session beers.
Its success is a real tidal wave. One may wonder why, because Simcoe, which offers the same overall characteristics, already occupied the market. There is of course a reason, a major one in this case: Mosaic offers better yields than Simcoe.
Rich in mango, lemon, citrus, earthy pine, berry, tropical fruit and stone fruit notes, this variety develops its virtues perfectly with boldly bitter beers.
Also, when we find a beer that calls itself "Mosaic Hop Explosion" and "India Pale Ale right in your face" on the label, we don't hesitate.
Made by the Brouwerij Kees (Middelburg, province of Zeeland, Netherlands), launched in 2015 by Kees Bubberman, this IPA titrates 5.5% ABV, and develops 65 IBUs (which is totally in the style standard, and no more).
On the nose, it's indeed an explosion — even somebody suffering from a cold could appreciate the powerful aromas that escape from the just-uncapped bottle. That said, the explosion doesn't last long, because in the mouth things quiet down. This beer is calm, nearly peaceful.
Technically, this IPA is excellent, the brew is beyond any reproach. However, a little disappointment remains. And I think it's due to the inappropriate name. This is therefore regrettable, because the quality of the malting was forgotten during the baptism. Result: We expect an explosion, there isn't one, and we're disturbed, whereas everything was there to please without any embarrassment…